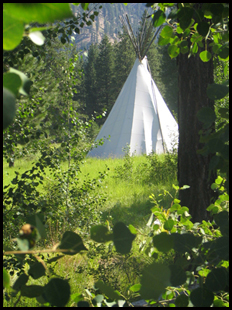 "To me a lush carpet of pine needles or spongy grass is more welcome than the most luxurious Persian rug."
~ Helen Keller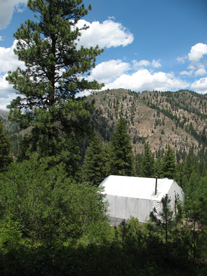 In addition to the magnificent scenery and wildlife we offer a variety of sleeping options. You can choose to stay in a small cottage, a wall tent, or even a tipi. The accommodations are all rustic, yet luxurious. For personal needs, we have a central bath house with individual bathrooms. For the adventurous, there is an outdoor shower with a large soaking tub. Most guests prefer this funky outdoor shower over all the other options. Nothing like being open to the sky and trees.

We are phone free, internet free and fax free, meaning you are FREE to experience an ultimate peace that is not available many places anymore. Come disconnect from your "life" and reconnect with yourself and your loved ones.
There is a shared outdoor kitchen for those that wish to prepare their own meals, or you can join us for family style style meals.
Two Ravens Retreat Center - 14 Misty Mountain Trail - Lowman, Idaho - (208) 860-8348