"Hey Boo Boo, what do you think is in that pic-a-nic basket?"

~Yogi Bear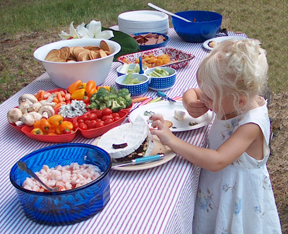 As a guest at Two Ravens, we provide family style meals for your enjoyment in community with others, or if you choose, you can have your meals in the solitude of your lodging.
We have a number of menus available for your group to choose, ranging from Mountain Fair to Mountain Luxurious. These menus go from camp food of pancakes and eggs, hamburgers, hot dogs, chips and s'mores to eggs Benedict and fresh fruit, fresh salmon and steak with salads and pasta and decadent desserts. We can cater to your specifications for your personal tastes and needs if requested. Whenever possible, we support our local farmers and providers of fresh and local food. Yes, we do grow many things besides potatoes in Idaho.
We may be many miles from the city, but we pride ourselves in good quality meals. When the facilities are used for retreats such as reunions, weddings and seminars, choose from one of our menus or design your own, or bring your own catered food. If your group chooses to do your own cooking, a fully equipped outdoor kitchen is available.
Two Ravens Retreat Center - 14 Misty Mountain Trail - Lowman, Idaho - (208) 860-8348